update 6 : Loot, Computing and Collision ,24/11/2018
---
There is a new update to :
1. Add loot currently, there is only healing loots it help you to survive, all enemies can drops you a little heart fragment, the loots stay on the room even if you leave the room, the room in witch an HP fragment is marked on the minimap.
A life loot :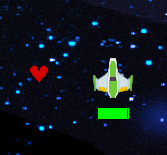 A room with a life loot on the minimap :

2. A review of the computing, I've changed a lot of thing in the computing, we will see if it's more or less laggy (normally less)
3. I've changed all collision system, it's now even more precise.
4.the sound level is now saved even if you restart the game